[Editor's Note: We want to thoughtfully explore what is worth discussing in movies and shows. Spiritual and gospel themes are often embedded in what we're already watching. By talking about something, Power to Change – Students is not giving an official endorsement, nor are we giving a ranking or judgment of overall quality. We simply desire to join the conversations that people are already having about #movies+shows.]
This article contains spoilers for the entire series.
Re-watching The Office
I'm a big fan of The Office! This mockumentary is one of my favourite shows. I watched it in the early 2000s as it was released, and I recently finished re-watching the whole series (even though I don't like the later seasons as much). I even started listening to the Office Ladies podcast with Angela Kinsey and Jenna Fischer––it's a fun way to get an inside look into each episode, and hear of all the fun stuff that happened behind-the-scenes.
As I watched the show again this year, I was struck by how much the employees of Dunder Mifflin are involved in each other's lives, becoming such close friends. It also left me thinking that in my work experiences so far, I haven't grown nearly as close with the people I've worked with, compared to what's depicted in this show.
Is it realistic to hope that friendships with our co-workers will be like the ones in The Office?
More than just co-workers
Fans like me come to care about the show's characters, and not so much about the operations of their small paper business in Scranton, Pennsylvania. If you can get through the cringeyness of Season 1 as the writers establish the personalities and quirks of each character, you get more invested. You may also have to look past some of the inappropriate and culturally insensitive humour that doesn't fly as well in 2021.
Michael Scott, who is the Regional Manager of the Scranton branch, and the main character, often refers to his employees as his family or friends. He once shared with the documentary crew,
"The most sacred thing I do is care and provide for my workers, my family. I give them money. I give them food. Not directly, but through the money." 
The characters of The Office are more than just co-workers who get a job done. They really do care for and support one another—like when Michael is the only one who goes to Pam's art show, or when everyone is concerned for Stanley's health after his heart attack, or when Oscar invites Angela to move in with him after she's evicted from her apartment. Even Brian, who is part of the documentary film crew, consoles Pam when she's upset after a disagreement with Jim.
It's fun to watch some unlikely friendships form throughout the nine years of following this group of co-workers. Take Dwight and Jim for example. From Episode 1, they are constantly pranking each other, have drastically different interests and personalities, and are up against each other for various promotions. But at the end of the series, Dwight asks Jim to be his "bestisch mensch" (which is Schrute for "best man").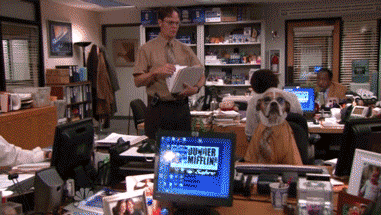 Of course, there are a number of budding and blooming romances too. Probably the biggest relationship is Jim and Pam's. We follow them through their crushes, their big kiss on Casino Night, their wedding day in Niagara Falls, and then watch them navigate the complications of balancing life, work, and family. Another long-running romance is Dwight and Angela. They have this secret on-again-off-again relationship for years—full of numerous fights and lies—but in the end we find out that they are meant to be together.
We also follow Michael's ongoing search for love, to fulfill his lifelong dream of having a wife and kids. We witness the trainwreck of dating his manipulative boss Jan, and the short stints with women like his realtor Carol, and Pam's mom, Helene. Then enter Holly Flax from HR: she is a perfect match for Michael and his antics. He says it wasn't love at first sight, but when he heard her voice it was "love at first see with my ears." In the final episode, we learn that Michael and his soulmate Holly do have kids and he is so proud to show everyone their pictures. At Dwight and Angela's wedding, Michael also comments about his former employees: "I feel like all my kids grew up, and then they married each other. It's every parent's dream!" So Michael does get his big family after all.
When Dwight becomes Regional Manager for Scranton at the end of the series, he sums up his relationships like this:
"Have I gotten along with my subordinates? Let's see…Oscar Martinez, my accountant, is now godfather to my son. Angela Schrute, my former accountant, is now my wife. My top salesman, Jim Halpert, was best man at my wedding. And office administrator Pamela Beesly Halpert is my best friend. So, yes, I would say I have gotten along with my subordinates."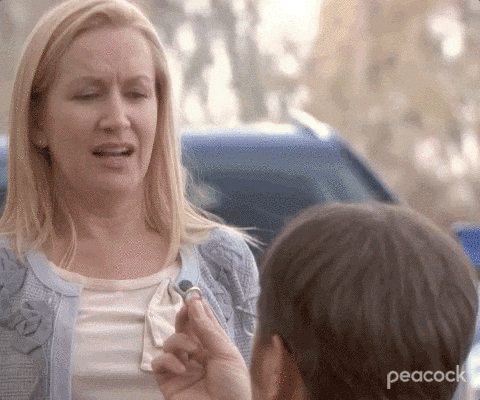 Are these relationships realistic?
Maybe you too have watched shows like The Office, and have longed for the close-knit friendships that you see on TV, but it hasn't been your experience. Perhaps you've felt let down when you've worked at a company for a summer or a year and haven't really bonded with anyone as you had hoped.
Yes, The Office is in the style of a documentary, but it is hardly realistic. For example, Michael probably would have gotten fired multiple times for the amount of work hours he wastes. The horrible ways that he treats Toby from HR would not be overlooked in the real world. Dwight should have been fired too, for hiding weapons throughout the office and for that one time he started a fire to test the office's emergency preparedness. So a lot of the day-to-day events in this office likely wouldn't happen in real life in the first place.
In terms of the friendships in The Office, sure there could be some relationships that grow as you work together, and maybe there will be some dating and eventual marriages between co-workers, but this isn't guaranteed.
In my own life, I have not experienced these kinds of close relationships with my co-workers. My very best friends have instead come from high school, university, and Christian communities––not my workplaces. Yes, I have made friends with the people I work with, and I get along well with a lot of them. I've even gone on some unique work trips with them, and we have great memories together.
Do we get to know each other beyond our work responsibilities? Yes! Do we have fun and celebrate each other's achievements? Sure! Do we hang out together outside of working hours? Sometimes!
But the level of interconnectedness I feel with my co-workers is not at the level of the characters in The Office. So if you too are doubting whether you will be able to have close friendships like the ones in shows such as The Office, you're not alone. Maybe your workplace isn't where you find those people. Instead, consider where God has placed you and the different relationships he has brought into your life. Whatever they are like and wherever they are from, it is good to thank him for the friends you've made thus far. The people who you know well, who care for you, and who are there with you through thick and thin are worth celebrating, even if no one is making your friendships into a documentary.
Have a question about what you read?
Do you have a question about what you have read on our site? We would love to hear it and help you find the answer, or just chat with you as you process what you read! Please fill out the form below and someone from our team will respond to you soon. Please note that your personal information you share with us is confidential and we will not share or sell your information.
About the Author
Maddie Garcia
Maddie studied Communications in university and now works with Power to Change – Students in the Creative Communications Department. She loves sharing her stories and experiences as a Christian young adult to help others going through the same thing. Her hobbies include thrift shopping, gluten-free baking, and cat loving.